Scholarship Deadlines are This Week
Owen County Community Foundation on Thursday, January 10th at 5:00 p.m
Putnam County Community Foundation on Friday, January 11th at 5:00 p.m.
Cloverdale Community Dollars for Scholars on Friday, January 11th at Midnight
Vivian will be available for assistance in completing scholarship applications and/or the FAFSA to students and parents in the Knoy Center at CHS on Tuesday, January 8th from 3:00 to 7:00 p.m. and Wednesday, January 9th from 3:00 to 6:00 p.m.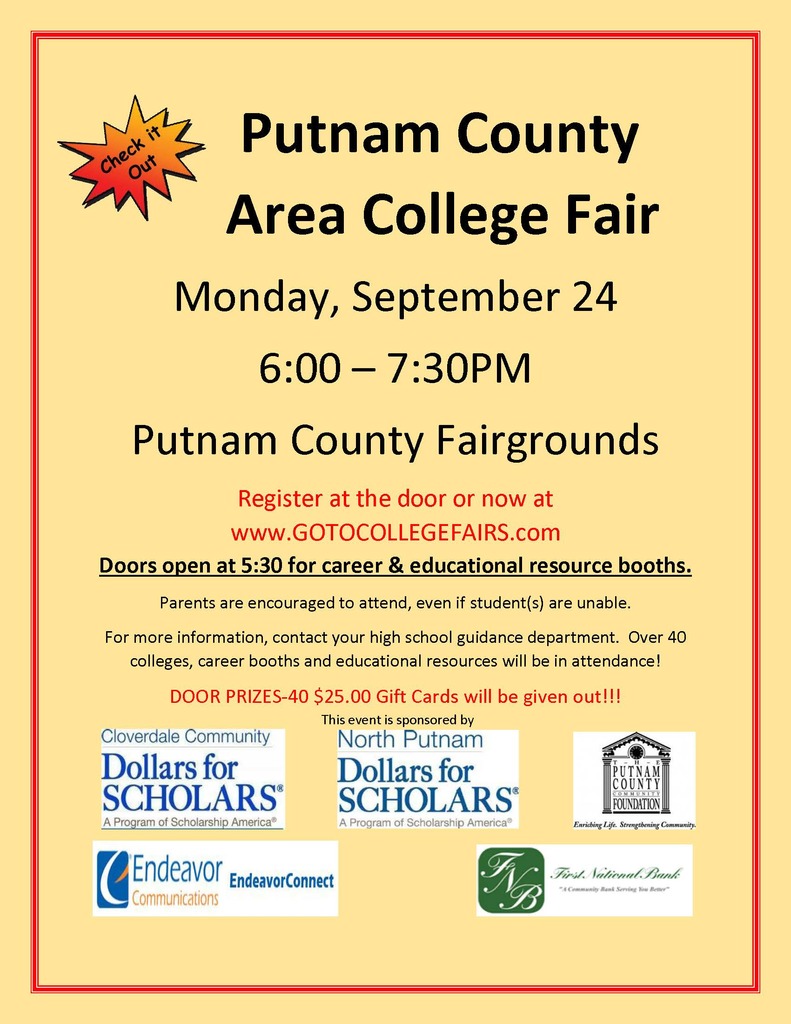 CAREER RESOURCES
Not sure of what field that you would like to go into, or what opportunities for careers locally might exist? 
The Greencastle/Putnam County Development Center has developed a list of really good resources,
along with a current listing of job opportunities that exist locally.  Please check out the links below!
AS OF JUNE 2017
CLOVERDALE COMMUNITY DOLLARS FOR SCHOLARS
HAS PRESENTED
$363,450 IN SCHOLARSHIPS
TO
430
CLOVERDALE COMMUNITY HIGH GRADS!
NEW SCHOLARSHIP FOR PAST CHS GRADUATES
Calling all CHS grads who are completing their first year of college or
technical/trade school and who have not yet received an undergraduate degree!!
We have a new scholarship just for you!  The Robert Steele Family Scholarship is a renewable scholarship which may be received for up to 3 years.  The total amount to be awarded is $1650 payable across a maximum of 3 years: $500 in year 1, $550 in year 2, and $600 in year 3.  This award was made possible by a $10,000 grant from Scholarship America and monies raised in the 2014 and 2015 Phone-A-Thons and a guitar raffle.  The monies raised have been placed in an endowment with the Putnam County Community Foundation thus ensuring that it will be awarded annually in perpetuity.
To qualify for this award, you must have a cumulative grade point average of 3.0 on a 4.0 scale or its equivalent.  Students who have received a renewable scholarship from Cloverdale Dollars for Scholars are not eligible to apply.  You must update your profile and download a transcript to the "Documents" section after completing the 2nd semester of this school year.  It is very important that both of your essays are at least 300 words in length. [Suggestion: Write your essays in a Word document first, then copy them into your profile.]  Since this is both a merit and need based scholarship, you should state why you need this financial award in the "Unusual Circumstances" essay and use the "Goals and Objectives" essay to state what you plan to do with your education and what you have done so far to reach your goals.
Additional information and criteria can be obtained by looking at the scholarship description on your profile.  The deadline for applying for this scholarship is Friday, May 29th.  If you need more information or have questions, please contact Vivian Whitaker [Home: 795-2586; Cell: 812-229-1147; email: vwhitaker@iendeavor.com].
Cloverdale Students in Grades 6-12 Now Have Instant Access to Over
a Million Scholarships through New Partnership with Fastweb
Who doesn't love free cash for college?  If you or someone you know is looking for scholarships, now Cloverdale Community Dollars for Scholars can help in over a million ways.  Scholarships America, the chapter's parent organization, has teamed up with Fastweb, the largest scholarship search company and Dollars for Scholars affiliates across the country are benefiting in a big way.  Students who fill out just one profile through this website (go to the Students & Parents Login tab) will be matched not only to local opportunities for scholarships, but every eligible opportunity through Fastweb's database, which includes well over a million scholarships.  Consider Cloverdale Community Dollars for Scholars a 'one-stop-shop' for Cloverdale students to use for searching and applying for scholarships!
THIS IS OUR STORY, AND WE ARE STICKING TO IT....
In 1994, Bob Steele stopped by the Cloverdale School administration office intending to leave a donation to cover some family expenses from many years ago.   Mrs. Terri Bailey, the office secretary, insisted that he meet with the Superintendent, Steve Wittenauer, before leaving.  From that meeting,  the Cloverdale Scholarship Fund was started for Cloverdale Community High School.  Al Tucker and Dr. Keith Ernst joined the effort, along with Bob Gerlach, owner of Clover Meadows golf course.  That group started a golf tournament in memory of Chad Tucker and Brad Gerlach, and that annual tournament has been a major source of scholarship funds.  Since then, hundreds of parents, current students, alumni, families, businesses and concerned citizens have contributed time and money to this fund.  
In 2004, the Cloverdale Scholarship Fund became an affiliate of Scholarship America, and became the Cloverdale Community Dollars for Scholars.  The benefits of affiliating with Scholarship America included many organizational resources, along with the benefits of having Collegiate Partners and Matching Partners.  Collegiate Partners agree to not reduce grant assistance from the institution for the amount of the scholarship, so the student truly receives the full benefit of the scholarship.  Matching Partners do the same, plus they agree to match some of the scholarship monies.  Most of them will match up to $500, so the student gets an additional benefit.       
To see a list of the Collegiate and Matching Partners, click on http://scholarshipamerica.org/cp.php    
Cloverdale Community Dollars for Scholars
P.O. Box 404
Cloverdale, IN 46120
Tel: 765-795-2586
e-mail: CloverdaleDollarsforScholars@gmail.com